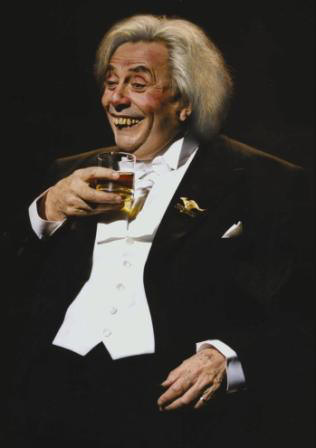 The first performance of the Last Night Of The Poms tour was held at the Royal Albert Hall in London yesterday. With the monologues, by both Sir Les and Dame Edna, being well received it seems that reviewers took a dislike to the musical passages.
A dishevelled Sir Les continually sprayed the front row with spittle as he swigged from a whiskey glass and remarked of the poor weather outside: "dampness is not always a bad thing is it fellas?" Claiming to have been as "busy as a Baghdad bricklayer" this gaudy buffoon gave The Secret Policeman's Ball a run for its money when it came to subjecting the regal surrounds of the Albert Hall to filth and puerility. It was joyous to behold but so sadly short.

The first [half] opens with an irresistible 10 minutes from Sir Les, who refines slobbering into an artform: the laughs flow according to the height hit by his spittle as it arcs towards the front row. It isn't sophisticated, but it's brilliantly disrespectful – as are Sir Les's unreconstructed jokes about "little Thai sheilas" and Peter Mandelson's urologist. So it feels plain wrong when Patterson's patter cedes to his Prokofiev parody, Peter and the Shark. Neither the text, nor the music is funny – and the style of each is cramped by the other.

After a sweeping overture conducted by Carl Davis, Barry Humphries appeared in the guise of Sir Les Patterson, cultural attaché extraordinaire, dribbling more than a Roy Hattersley Spitting Image puppet. Patterson is a magnificent monster and his 75-year-old creator was on filthily fine form, insulting the stony-faced Sheilas in the front row and boorishly berating latecomers.

In support, Humphries's cultural attaché Sir Les Patterson suffers the same problems. His musical piece is Peter And The Shark, an Australianised version of the Prokofiev piece, with various instruments illustrating various characters drawn from antipodean fauna in a tedious gag-light story, slowed to a wearying pace by the soloists' interludes.

Yet again, when he's left to his own devices, Patterson's a delight. Sure, a lot of the comedy comes from Strine slang such as 'budgie smugglers' for Speedos or other cheap innuendo, but he does it excellently, with all the exaggerated flair of a pantomime grotesque.

But mostly, he's funny for no more sophisticated reason that the arching waterfalls of phlegm that spew from his mouth and over the audience every time he hits a plosive 'p' sound, which seems to occur with undue frequency. If the front row had dipped into the Royal Albert Hall merely to avoid the downpour outside, they would have found themselves more drenched inside the building than out.

It started well with Les Patterson delivering 15 minutes of the kind of filth we have grown to love him for - but then it all went wrong. He then proceeded to deliver a rambling monologue, accompanied by a full orchestra, about a story called "Peter and the Shark". It wasn't funny, it wasn't memorable. In fact, it wasn't anything.