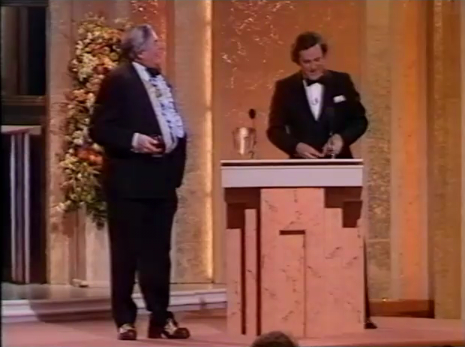 Yes, 'Entertainment' is the word on most of Sir Les Patterson's cheque stubs. This is according to the man himself, announcing the 1984 BAFTA for Best Comedy Series, live from the Grosvenor Hotel in London.
Sir Les kept the celebrity audience entertained by telling a historic joke that had never been told in mixed company before. Thankfully it was suitable for primetime and concerned a little old lady in King's Cross and three Australian drag queens.
Good old Terry 'Woges' Wogan managed to keep it together even when Sir Les announced that he was going to 'open something up and whip something out'. That would be the winner of the BAFTA for Best Comedy Series, Paul Jackson for The Young Ones.
I've got a bit of a cold tonight so if I cough, put your hands over your mouths will you.
According to the BAFTA Awards Database is appears to be 1984 and not 1985 as titled by BlocksVideos on YouTube.