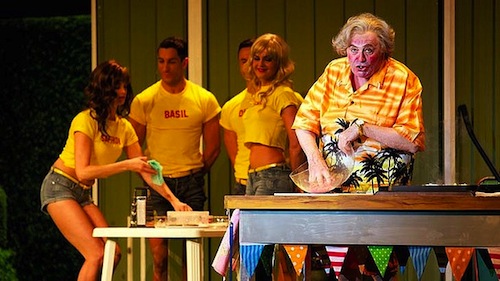 Finally reviews of the Eat Pray Laugh! tour have started to dribble in.
The shows opens with Sir Les Patterson, undaunted by chronic diarrhoea, conducting a celebrity cooking segment in his backyard. He's as uproarious and politically incorrect as ever: the trouser-snake, the creamy saliva, the demented overbite, and the unabashed political incorrectness; this supreme incarnation of all that's dire about the Australian male hasn't changed a whit. And the packed auditorium went wild for it.

When it premiered in Sydney two weeks ago, Sir Les had returned from the Mexico City G20 Summit with an upset stomach ("Montezuma's revenge") and an ambition to become a celebrity chef. "Since when did diarrhoea interfere with gourmet cooking?" he croaks, his dribble sizzling on the barbecue with his rissoles.

More spice with that? Les has got plenty, some past its use-by date: "I can live without turmeric," he slobbers over one of the girls from his quartet of hot-bod dancer-helpers, "but I won't say no to cumin."
Alas there are no photos of Les's brother Father Gerard, the Catholic priest who has "touched everyone he has ever met". I'd wager that Gerard has the same rugged good looks of his former diplomat, now celebrity chef, brother Les.