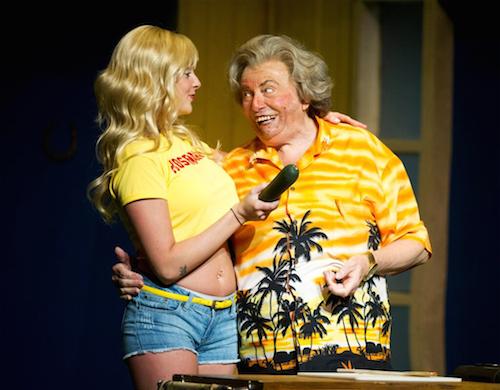 Last night was the final date on the Eat Pray Laugh! tour of the U.K. and our hero did not disappoint. Despite picking up a terrible case of the trots from a Mexican fact finding mission, Les battled on bravely.
With all the major and minor T.V. networks in the audience Les pitched his new culinary show Les Get Cookin'. Needing to impress Les cooked up his signature dish, Rissoles. Minced meat, onion, courgette and spices all mixed by fingers of a former Australian diplomat. Unfortunately, due to an enlarged saliva duct that he's had since birth, the ingredients were a little moist, but a quick roll in the flour and it was onto the hot plate.
A couple were brought up from the audience to assist Sir Les. The woman seemed to be overcome standing so close to Leslie and she lunged at his trouser snake. Les was quick to react and kept her probing fingers out of harm's way. As we know the Patterson appendage is reserved for Thai shelias, government sponsored ceiling inspectors and on a rare occasion, Lady Gwen.
Sir Les had to pay a second trip to the onstage lavatory and that was the last we saw of him. But surely the sight of his beckoning hand around the dunny door, gesturing for anything absorbent, can't be the last we'll see of him.
Rumours are that Barry Humphries will take Dame Edna on a U.S. leg of the Eat Pray Laugh! tour. We don't know if the Sir Les combination of culture and cuisine will make it across the pond.