extolled by Barry Humphries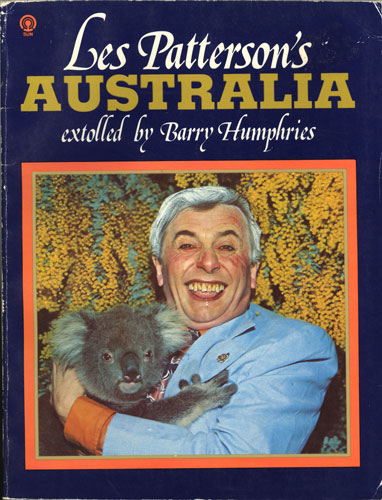 "Deeply moving, funny and compassionate…"
Share Sir Leslie's own heartwarming love affair with Australia with your loved ones and overseas associates.
This sumptuous volume of beautiful words and pictures recording Australia's unique heritage comes from the private archive of a great Australian.
Men envy him, women adore him. Wherever you stand in the spectrum of world politics his is arguably the most dynamic and creative mind in Australasia.
This book has been published thanks to the generous munificence of the Creative Literature Board of the Australia Council for the Yartz.
Arguably a celebration of one man's on-going, open-ended, down-market, across-the-board, grass-roots Australian situation, hopefully.
My Track-Record

A Foreward by Sir Leslie

In my career as a distinguished fellow-Australian and Public Servant (I have sometimes logged as many as twenty-five, twenty-six, and even twenty-seven working hours per week!) I have always been desirous of keeping a pretty low profile in terms of the hard-nosed cut and thrust of Australian diplomacy situations. Over the years my critics, as such, have grudgingly admired the way I have combined my idealism with an on-going career amidst the pitfalls of the Australian political spectrum situation as we know it, per se.

Under the Whitlam epoch when I held the very important portfolio of Minister for Drought, I too, like many of my countrymen, believed in Camelot built upon this brown unpleasant land of Australia, as they say in the Classics. I too believed that the sun shone out of Gough's freckle but, like so many of my colleagues, in close proximity to that on-going, open-ended orifice, I soon discovered that sunshine was not the only commodity that was likely to strike you fair and square between the eyeballs.

Splashed

As Lady Luck would have it, I came out but lightly scathed, of splashed, and I was soon making myself an indispensable part of Australia's overseas Public Relations Operation situation in the delightful metropolitan area of London as Australian Cultural Attache to the Court of St James. It was at this particular juncture that I was summoned to Buckminster Castle, the Queen's delightful colonial-style residence, to receive the title of Sir and Lady, for which I know for a fact so many of my fellow Australians have been working their arses off for. I'm not going to name names: we all know a brown-nose when we see one. I could be referring to any Tom, Dick or even Harry!

But the rest is history.

Many men write their memoirs in the twilight of their lives. But I am happy to say, as I sit down to pen this sumptuous volume that I am still a vigorous man of the people in the Lunch-time of his Life!

Map of Tasmania

I don't mind saying I love the finer things of life, because I do! Because of this I have often been labelled as a 'Highbrow' by types who wouldn't know a lovely hand-done picture on the wall of a girl with no clothes on featuring the map of Tasmania from a hole in the ground.

Let's face it, for a while Australia's image as a land of culture copped a terrific lot of rubbish and knocking from the expatriate sector, mainly a bunch of know-alls and shirt-lifters, who in my humble viewpoint are lower than the basic wage. Now, largely thanks to my goodself, my family and my staff, Australia is second to none in terms of macrame, pomes, opera, modesty, TV, and aboriginal artifacts. Not forgetting our internationally acclaimed, award-winning, world-class, home-grown fillum industry, which I have largely spearheaded.

If you ask me what I'm proud of, more than anything else I'd say it in one word - TRACK-RECORD.

Although I say it myself - mine's a beauty.

The rest is history.

Hopefully this sumptuous volume by my goodself will find its way into an in-home library situation, not only in terms of Australia, but also Overseas where interest in our superlative life-style is arguably nil.

Sir Leslie Patterson
Cover photographs by David Liddle
1978
First published by Sun Books 1978
Copyright © Barry Humphries 1978
ISBN 0 7251 0303 5